In a wide-ranging interview, the CEO of the biggest tech company in the world explains how AR will change our lives, and why he thinks the world is actually getting better
Earlier this year, video emerged of a new iPhone feature, long before it was released. It showed the phone creating a magical portal in the middle of a city street. And now that's arrived.
Apple's new technology, named ARKit, seemed to arrive at the perfect time. It works by imposing bright virtual objects into the real world – at a time when reality has never seemed darker.
The feature is the kind of world-changing technology that's on a par with the introduction of the iPhone 10 years ago, Tim Cook tells The Independent. And Apple is standing at the front of it, he says – as another, perhaps more literal, aspect of its long-standing mission to make the world better and a bit more magic.
Because for all the discussion of AR and VR, reality isn't really being escaped so much as improved. And Apple isn't running away from reality either – during our interview, Cook speaks passionately about his belief that the real world is getting better, as well as the virtual one.
Despite a focus on new technology, he makes clear that Apple is a company that will not stay quiet and will fight for human rights across the world. And he is optimistic that the world is gradually improving – an optimism that is driven by a sense of history, he says.
But today, Mr Cook – voice soft with Alabama politeness, wearing blue jeans – is demonstrating his plan for augmented reality to take over the world. Or, rather, show how it already has.
Augmented reality works by examining, mapping and understanding the real world and then laying virtual objects on top of it. Apple's brand new ARKit works by doing that first bit – it uses the iPhone to get a highly detailed picture of the phone and its surroundings, and serving that up to developers so they can put virtual objects on top of it.
One particularly popular example since ARKit launched, for instance, is IKEA's new app. That allows people to stand in their living room and look at a virtual recreation of the sofa they want to buy – and then they can check how it fits, move around it, look how it goes with the wallpaper, and so on.
Cook claims that shopping will be changed "entirely" by augmented reality, and says that he doesn't think "anything will be untouched". It brings together the two difficult forms of shopping today, both brick and mortar and online, in a way that could let people see the entirety of a dress by walking around it, as if they were in a shop, but from the comfort of their own iPhone.
Similar apps are being made across education, business and navigation, as well as shopping. Cook was joined by developers who showed The Independent their new software, which included hiking apps that overlaid information about the landscape, educational apps that did the same for the solar system, as well as games that could be virtually played on a real tabletop.
And Apple believes it will be huge. Cook says that it will end up not simply being used by some kinds of people but for "everyone"; like the App Store when it launched, it might not be huge right now, but AR will go on to have the same "dramatic" climb to take over the world that did.
Cook – whose responses have the same incredibly thoughtful, intentional quality as his company's products; the sentences are designed with the precision of iPhones – was speaking as part of Apple's launch of ARKit. That is a framework in the iOS software that powers its iPhones, but it has been accompanied by sensors inside the iPhone X and 8, as well as those that went before.
But he was also notably humble about what that actually is: Apple has created not the augmented reality apps themselves, but a vast framework of sensors and software so developers can build their own.
"The way that you get lots of great ideas is for us to do the heavy lifting of the complexity of locational things and software, and put those in the operating system," says Cook. "And then you have all the developers that are able to put their energy into their passion."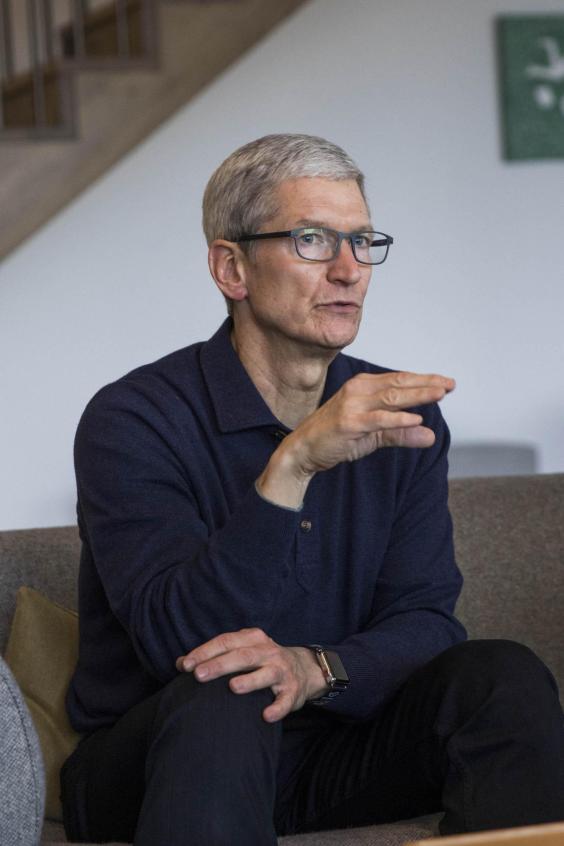 Every developer that creates apps for the iPhone can now use those features, and with an ease that has allowed them to pull together stunning virtual worlds in just a few weeks. That means that Apple can "plant a lot of seeds", says Cook, and since there's 15 million or so developers in the world then at least some of those seeds will grow into the stunning, flowering app ecosystem of the future.
And it's all those things that show why exactly Apple is feeling so confident about its lead in augmented reality.
"Our competitors are trying to mimic what we've done," says Greg Joswiack, Apple's vice president for iOS, iPad and iPhone marketing. "But they just don't have that scale we bring to it."
As Cook talks about the importance of speaking out, his commitment to improving the real world is clearly undimmed. His and Apple's work isn't limited only to the political, and has also taken in commitments to power its stores and data centres sustainably alongside new concentration on improving the diversity and accessibility of both its products and its business.
But while it might not be so pressing, Cook is a little more able to change the entire world with ARKit. It does that literally, by laying magical and strange virtual objects – or domestic ones – onto the real world.
But it does it in a broader way, too, and one that explains Cook and Apple's focus on the applications of ARKit and other technology in education. Augmented reality apps are already allowing children to fly through virtual stars and mountains – and perhaps encourage them to change the world beneath.
Sourse: independent.co.uk